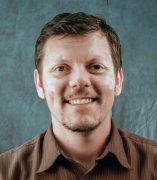 Mike Stieff, Ph.D
Vice Provost for Faculty Affairs
Professor of Chemistry
Office of the Vice Provost for Faculty Affairs
Contact
Building & Room:
2733 University Hall (UH)
Address:
601 S. Morgan St., Chicago, IL 60607
Office Phone:
Email:
About
Mike Stieff was named UIC's Vice Provost for Faculty Affairs, effective June 16, 2022. He is a tenured Professor of Chemistry in the College of Liberal Arts and Sciences, and former co-director of the UIC Learning Sciences Research Institute. Professor Stieff has been a member of the UIC faculty since 2010, is an Honors College faculty fellow, and in August of 2021 was awarded the Honorary Professorship of Learning Sciences in the School of Education at the University of Nottingham in the United Kingdom. Professor Stieff earned his Ph.D in Learning Sciences, with a Certificate in Cognitive Science from Northwestern University, and has served as a Humboldt Fellow at the Leibniz-Institut für Wissensmedien in Germany, as an Assistant Professor at the University of Maryland, College Park, in addition to the University of California, Davis, and also taught at Harold Washington College, as well as, Northwestern University prior to joining UIC in 2010.
Professor Stieff's interdisciplinary research has focused on the design and study of educational technologies, faculty development, and organizational change in higher education with an emphasis on dismantling deficit thinking with respect to both students and faculty, and his work has been funded continuously by the National Science Foundation and the U.S. Department of Education since 2004 with funding currently secured through 2026. Recognized by numerous awards, Professor Stieff is a Humboldt Fellow for Experienced Researchers, a Spencer Foundation Fellow, and a recipient of the UIC Teaching Recognition Award, as well as, the ACS Editors' Choice Article Award for work appearing in the Journal of Chemical Education. His work has been featured in more than sixty peer-reviewed publications, dozens of conferences and seminars, and his research has been highlighted in multiple published books.
In his own words, "UIC faculty are among the best educators and researchers working in higher education. I am excited to help our faculty thrive and to work together to promote faculty success from recruitment to retirement."